– Block Plus –
Decorate your World like never seen before with a well made Add-On that introduces you a few categories of Blocks to suit many types of buildings and styles with a large color palette and patterns
—
– A Box of Creativity –
Have you ever wanted to go more than your bounds of imagination let you? To let that burning creativity finally free ? Well this is your chance with our [BlockPlus] Add-On which brings to your world new colors, new styles and new visual purposes.
The Add-On lets you do things you never could before with 100+ blocks with a high variety of materials and patterns.
—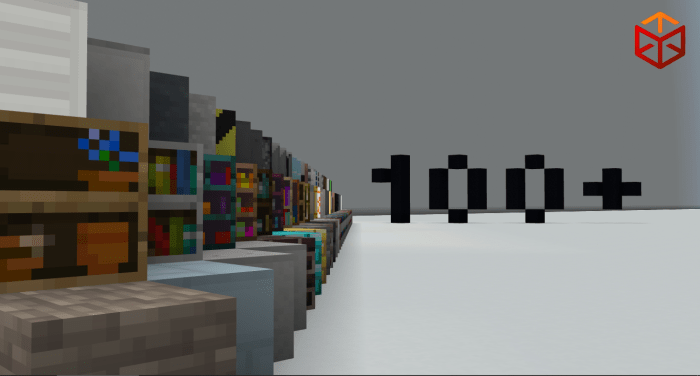 – Be as Creative as you can –
All the blocks are kept to the real world meaning there aren't sci-fi blocks around ( unless you suggest on our Discord – link below )
—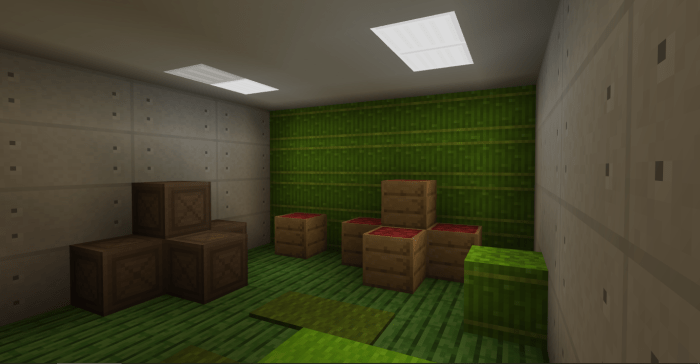 – Made Simple but Good –
Accessing blocks is very simple .. just type /function and you'll see categories showing from where you can choose your desired blocks.
—
Here is a list containing all avaliable functions:
( Find more details about each function a few clicks below )


/function all.blocks ( gives you shulker boxes , each containing the functions below )
/function bricks.page
/function deco.page
/function industrial.page
/function lights.page
/function office.page
/function planks.page
/function road.lines.page
/function tiles.page
– Unlock New Chunks of Creativity –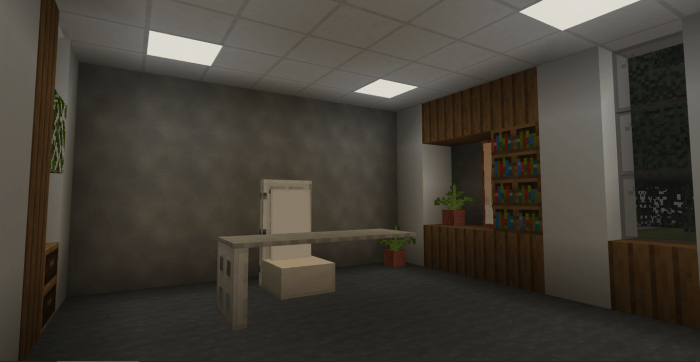 —
/function bricks.page :
– design:ashbrick
– design:blue_bricks
– design:concrete_brick_left
– design:concrete_brick_right
– design:crimson_blood_brick
– design:diamond_brick
– design:gold_brick
– design:pale_ashbrick
– design:pale_crimson_bricks
– design:seared_brick
– design:snowy_pale_crimson_bricks
– design:white_bricks
– design:fresh_brick
– design:fresh_brick_black
– design:fresh_brick_blue
– design:fresh_brick_brown
– design:fresh_brick_cyan
– design:fresh_brick_gray
– design:fresh_brick_green
– design:fresh_brick_light_blue
– design:fresh_brick_gray
– design:fresh_brick_lime
– design:fresh_brick_magenta
– design:fresh_brick_orange
– design:fresh_brick_pink
– design:fresh_brick_purple
– design:fresh_brick_red
– design:fresh_brick_white
– design:fresh_brick_yellow
– design:silk_brick
– design:silk_brick2
– design:blue_nether_bricks
/function deco.page :
– design:concrete_pale_green
– design:bflower_pot
– design:magma_cob
– design:white_wood_bookshelf
– design:warped_bookshelf
– design:spruce_bookshelf
– design:jungle_bookshelf
– design:dark_oak_bookshelf
– design:crimson_bookshelf
– design:birch_bookshelf
– design:acacia_bookshelf
– design:cabinet
– design:gold_cast_emerald_block
– design:flowerwall
– design:gold_cast_lapis_block
– design:magma_quartz
– design:sandstone_pillar
– design:sandy_concrete
– design:smokey_concrete1
– design:smokey_concrete2
– design:smooth_glowstone
– design:wall_design
– design:wallpaper_bottom
– design:wallpaper_top
– design:black_quartz
– design:smooth_black_quartz
– design:black_quartz_chiseled1
– design:black_quartz_chiseled2
/function industrial.page :
– design:industrial_block
– design:hardened_concrete
– design:nailed_hardened_concrete
– design:compressed_cobblestone
– design:vent
– design:vent1
– design:wall_design
/function lights.page :
– design:neon_lamp
– design:celllight
– design:celllight_off
– design:green_celllight
– design:green_celllight_off
– design:red_celllight
– design:red_celllight_off
/function office.page :
– design:office_ceiling
– design:office_carpet
– design:office_light
– design:office_neon
– design:office_neon_off
– design:office_neon_semioff
– design:office_vent
– design:office_blue_carpet
– design:office_white_carpet
/function planks.page :
– design:amber_planks
– design:bamboo_wood_planks
– design:black_planks
– design:blue_planks
– design:dead_wood_planks
– design:gray_planks
– design:green_planks
– design:red_planks
– design:white_wood_planks
– design:smooth_dark_oak
– design:smooth_dark_oak_up
– design:smooth_spruce
– design:smooth_spruce_up
– design:yellow_planks
– design:crate
– design:beetroot_crate
– design:planks_spruce_polished
– design:sugarcane_block
/function road.lines.page :
– design:concrete_road_connector1
– design:concrete_road_connector2
– design:concrete_road_connector3
– design:concrete_road_connector4
– design:concrete_road_connector5
– design:concrete_road_corner1
– design:concrete_road_corner2
– design:concrete_road_corner3
– design:concrete_road_corner4
– design:concrete_road_straight_white_line1
– design:concrete_road_straight_white_line2
/function tiles.page :
– design:aqua_double_tile
– design:aqua_quad_tile
– design:chess_tile
– design:brick_tile
– design:diorite_tile
– design:cold_stone_tile
– design:marblesand_tile
– design:pooltile
– design:pooltile_brown
– design:white_double_tile
– design:stone_tile_granulated
– design:spottedstone_tile
– design:wood_floor_tile
– design:wood_floor_tile2
– design:marble_smooth_tile
– design:diorite_tile
—
Our mission is to bring you as many decorative blocks as possible
to always let you to build something that you like
—
[Social Links]
Discord : https://discord.gg/j8PVsGd ( chatting, ideas/suggestions & feedbacks );
Twitter : https://twitter.com/molten_pixel ( regular announcements );
[Terms of Usage]
– You can't repost this Add-On anywhere without permission;
– You are allowed to use this Add-On in your videos only if you give proper credit;
– You aren't allowed to use this Add-On in public maps without permission;